• The Ultra-Efficient biostimulant has been granted approval to be used in additional crops under the EU Fertilising Products Regulation
• The extension to vegetables, ornamental and AMP crops, and broadacre crops represents a step forward in creating a sustainable future for agriculture and driving its biotransformation
In October 2022, Biimore was registered in the European Union as a 'Non-microbial plant biostimulant' under the EU Fertilising Products Regulation 2019/1009 (FPR), bearing the CE mark. This made Biimore the first Tradecorp (a Rovensa Next company) biostimulant, and one of the first in the market, to receive the CE mark under this new regulation. Now Biimore's EU certification has been extended to additional types of crops.
Initially, Biimore was certified for efficiency and quality claims including the ability to increase fruit quality in terms of size, weight, and sugar content. Adding to its initial certification for foliar application to woody perennials and efficacy trials, the registration has been extended to vegetables, ornamental and AMP crops, and broadacre crops.
Biimore (also registered as Quikon and Vorax in other markets) is an Ultra-Efficient biostimulant developed by Rovensa Next, a new global business unit from Rovensa Group that is dedicated to biosolutions for agriculture. Rovensa Next, formed by 10 brands, including Tradecorp, was created to support farmers and distributors in solving real sustainability challenges with a powerful and holistic portfolio of biosolutions to drive the biotransformation of the industry.
Biimore, the Ultra-Efficient biostimulant for a wide range of crops
Derived from biological fermentation, Biimore uses a specific bacterial strain and an exclusive and sustainable plant fermentation process. The Biimore fingerprint is the result of Tradecorp's sustainable proprietary process that uses bacterial fermentation of sugarcane molasses, by our own strain of Corynebacterium glutamicum, under conditions specifically designed to produce a natural Biostimulant for use in agriculture.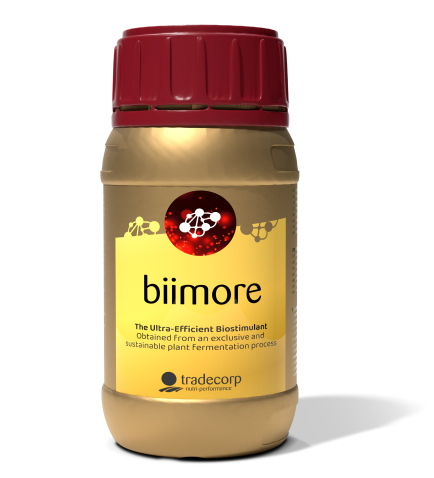 It has been used across a variety of over 25 strategic crops and different geographical areas in more than 180 agronomic trials, which have demonstrated the high efficacy of Biimore at ultra-low doses applied at fruit swell and development stage, increasing yield and fruit weight by up to 28% and 19%, respectively, and improving other quality parameters such as size, sugar content and shelf-life.
In addition to becoming one of the first biostimulants to be registered under the FPR in Europe, Biimore, under the brand name of Vorax, became the first biofertilizer to be registered in Brazil, and has also been approved in the Indian market. This represents a significant moment for Rovensa Next in our mission to enable a more sustainable agriculture worldwide.
CE mark certification extended Biimore registration to horticultural and extensive crops
The extension of this certification to new crops represents an additional guarantee to customers that Rovensa Next's rules and processes comply with the European regulation standards, delivering on our commitment to protect people's health and preserve the environment, while becoming the best partner for industry, farmers, distributors, suppliers and all our stakeholders, in terms of quality, quantity and sustainability.
Receiving the CE Mark Certification under the EU Fertilising Products Regulation 2019/1009 (FPR) gives customers and growers greater reassurance and peace of mind knowing that products as Biimore have been evaluated for safety, quality, and efficacy – and that now, that extends to even more crops and needs.
About Rovensa Next
Rovensa Next is the biosolutions business unit of Rovensa Group, creating a holistic platform of innovative biosolutions to shape a sustainable future for agriculture and drive its bio-transformation.
The business unit is comprised of more than 3,000 employees around the globe with a sales presence in over 90 countries. Betting on sustainability, innovation, and technical expertise, Rovensa Next unites a global network of 30 R&D laboratories, excellence centres, fields, and greenhouses; 14 production plants; more than 84 partnerships with research centres and universities; 100 R&D and innovation specialists; and a dedicated team of more than 850 field experts.
Rovensa Next aggregates ten sustainable pioneer Rovensa Group companies, with long and proud legacies in bionutrition and biocontrol management: Agrichembio, Agrotecnologia, Idai Nature, Microquimica, MIP Agro, Oro Agri, OGT, Rodel, SDP, and Tradecorp. As one brand, Rovensa Next will house a balanced portfolio of bionutrition, biostimulant, biocontrol and bioenhancer products, offering farmers holistic inputs solutions aimed at guaranteeing yield and performance, and promoting sustainable agriculture practices.
For more information, go to www.rovensanext.com
For further information:
Rovensa Next
Elisa Lipperheide
Global Communication Manager
elisa.lipperheide@rovensanext.com
Lorena Barroso
Communication Expert
lorena.barroso@rovensanext.com