Rovensa Next is on a mission to shape a sustainable future for agriculture and feed a growing population with quality, nutrient-dense food. However, our future food security is heavily dependent on the health of the soils in which crops are grown and unfortunately, in recent decades, human factors such as poor management practices, pollution, climate change and urbanisation have negatively affected the health of soil around the world. So much so, that the UN Food and Agriculture Organisation (FAO) estimates that by 2050, 90% of all soils globally will be degraded, threatening our global climate and food security.1
As part of its commitment to empowering growers to solve sustainability challenges, and to the UN Sustainable Development Goals, within its holistic portfolio of biosolutions Rovensa Next has developed specific innovative solutions designed to help conserve the soil by promoting a healthy salinity, pH, soil structure and microbiome.
The benefits of restoring degraded soil, improving soil structure, and implementing soil conservation practices in agriculture go beyond just creating healthier soil for crops. As inadequately managed soil can emit excessive carbon dioxide, thereby exacerbating climate change, a healthy soil can also effectively capture carbon, thus bolstering resilience against the impacts of climate change. With SDGs as a core driver of Rovensa Next's operations, soil conservation efforts bring us closer to reaching the goals of Climate Action (#13) and Life on Land (#15).
Water-management and resilience
Water management plays a crucial role in soil conservation, and Rovensa Next's product, Transformer, takes care of the soil against the blows of the weather. Transformer helps address the challenges of both water scarcity and excess water by optimising water efficiency in all types of crops. By improving soil aeration and water infiltration, it enhances the overall soil profile and conditions for subsequent product applications. This leads to better root system development, increased nutrient and water uptake, and improved resistance to stress and diseases.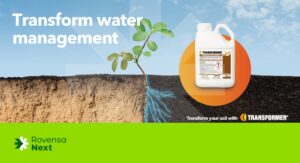 This stellar product also distributes water in dry conditions, preventing run-off and uneven wetting of the soil. This conserves water resources and promotes the growth of microorganisms and roots by displacing harmful CO2 with oxygen and nitrogen. In the case of excessive water due to flooding or heavy rains, Transformer improves soil aeration and hydraulic connectivity, preventing root asphyxia and nutrient imbalance.
All in all, the enhanced soil aeration, increased root surface area, and improved nutrient uptake contribute to a healthier ecosystem. This reduces the reliance on chemical inputs and aligns with Rovensa Next's sustainable agriculture practices. Ultimately, the use of Transformer enables growers to maximise water use, protect natural resources, and achieve higher quality and more productive harvests while preserving the long-term health and productivity of the soil.
Nourishing and nurturing a healthy soil 
In the quest for sustainable crop production, Rovensa Next has developed Phós'UP, a high-tech biofertiliser specifically designed to enhance phosphorus nutrition in the soil while minimising environmental impact.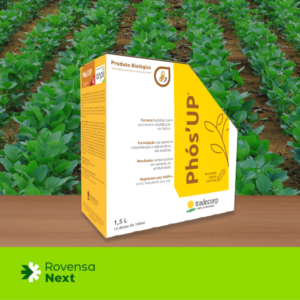 It's one of Rovensa Next's acclaimed products, having won the Biofertiliser Product Award at the World BioProtection Summit and Awards 2022. By leveraging the power of phosphorus-solubilising microorganisms, Phós'UP effectively increases the availability of this vital nutrient for plant absorption. This innovative solution, produced through a fermentation process, not only promotes crop growth but also reduces dependence on conventional fertilisers, contributing to an eco-friendlier approach to agriculture.
Our biofertilisers consist of bioactive compounds derived from the activities of bacteria, fungi, and algae, resulting in a significantly lower carbon footprint compared to conventional fertilisers. They enhance nutrient uptake in plants, improve soil fertility, strengthen roots, increase tolerance to abiotic stress, and ultimately boost crop yield, a great combo for a healthy soil.
Promoting soil conservating efforts
At Rovensa Next, we recognize the vital role soil plays in achieving sustainable agriculture. Rovensa Next is committed to preserving it through our holistic and sustainable biosolutions portfolio: biocontrol, bionutrition and bio enhancers.
Through products like Transformer and Phós'UP, we continue to drive innovation and foster a holistic approach to preserving crops and ecosystems. By prioritising the health of the soil, we empower growers to achieve optimal yields while minimising environmental impact and demonstrate the global benefits of a more sustainable agriculture.