Our climate is visibly changing, bringing new challenges to the agricultural industry every year, one of these being water supply and management. Globally, 65% of people agree that there will be more extreme weather in 2023 than in 20221, which we continue to see play out with extreme flooding, increased drought, and severe storms. Farmers are directly affected by these extreme weather events and consequently, our annual food supply is also affected. According to the Food Security Information Network, extreme weather was the primary driver of acute food insecurity for 56.8 million people across 12 countries in 2022, more than double that of 2021 (23.5 million people in 8 countries)2. 
Our mission at Rovensa Next is to shape a more sustainable future for agriculture and one of the ways we do that is by accompanying growers in solving their sustainability challenges. While we cannot control the weather, we can take certain measures to protect our crops against the negative effects of climate change, including the use of water conditioners to improve resistance to abiotic stresses, boost soil responsiveness and help moderate water use.  
Transformer, our highly effective biodegradable water optimiser supports growers in improving hydraulic properties, hydraulic conductivity, water retention, soil compaction, and hydrophobicity in soils but can also contribute to improve crop performance.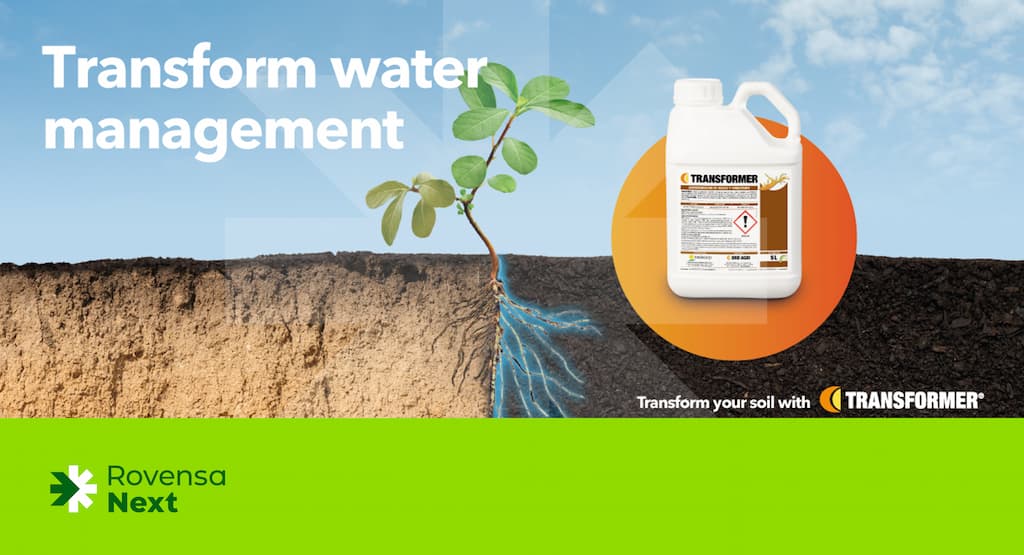 A world challenged by water
Taking a step back, what would happen to crop without the right amount of water?  
Water scarcity 
First, like all other living things, they get dehydrated. As the soil gets drier, roots are unable to uptake water and the plants experience dehydration. With less water, there is also reduced photosynthesis, which is a critical process for plants to be able to grow, maintain themselves, and synthesise other important molecules.  
Plants then begin to accumulate toxic substances, such as salt ions, which can interfere with the plant's metabolic processes and affect the uptake of key nutrients that allow the plant to grow. With a high concentration of salt in the soil, plants experience saline stress, which makes it difficult for the plant to absorb water. All of this can result in yield reduction, tissue damage and ultimately the drying out and death of the plant. 
Abundance of water 
Conversely, if there is too much water due to flooding or heavy rains, crops are also put under stress. Excessive water can saturate the soil and displace air and cause root asphyxia, depriving plants of the oxygen they need to produce energy. Nutrient levels and uptake can also be affected, as waterlogged conditions disrupt the balance of minerals in the soil and can make them less accessible to roots.  
Prolonged wet conditions can lead issues related to root asphyxia such root rotting and decay, as plants are deprived of the necessary nutrients and oxygen to grow.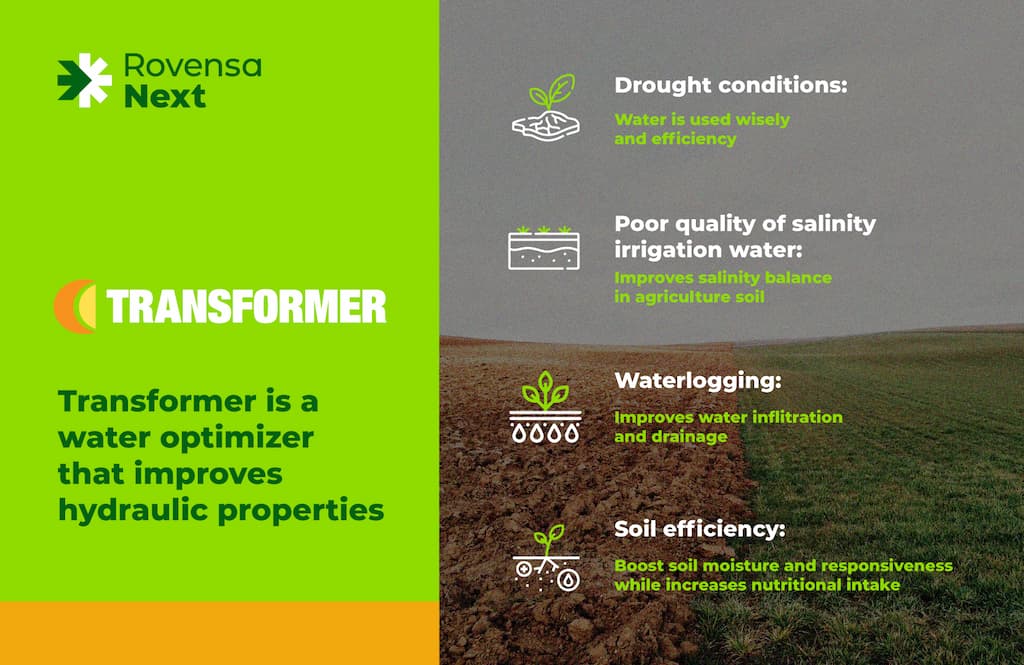 Managing water efficiency with soil conditioners
With the use of a water optimizer like Transformer, growers can boost soil responsiveness and manage water efficiency in all types of crops, ultimately transforming them to achieve a better quality and higher yield harvest. 
As a corrector, Transformer can be applied directly to the soil, where it aims to improve the water infiltration rate for subsequent irrigation cycles. The benefits of this are numerous.  
First, Transformer enhances soil aeration, which allows the water to spread over a larger area to combat waterlogging and improve the overall soil profile, enhancing the conditions for subsequent applications of other products.   
With increased aeration comes an increase in root surface area and more microbial activity, which optimise the uptake of water and nutrients from the soil. This results in a stronger root system with higher feeder root mass, improves plants' ability to withstand temperature and moisture-related stress.  
Whether the soil is sandy or dense, Transformer enhances hydraulic properties such as infiltration, lateral distribution, and drainage, allowing water to reach the plant directly, ensuring that the water is not lost through run-off, channelling, or uneven wetting of the soil. Better distribution of water also helps to displace CO2, which is replaced by oxygen and nitrogen that feed micro-organisms and roots what they need to help the plant thrive in suboptimal conditions.  
In addition to its clear benefits for plant growth and productivity, Transformer can also help growers to comply with the European Farm to Fork strategy and Common Agricultural Policy. These policies require growers to use water in a safe, sustainable way to protect it as an essential natural resource. Applying Transformer helps to enhance overall plant water management, helping growers to improve their water use and ensure that each drop goes towards the healthy growth of their harvest. 
Transformer is recommended for all soil crops and acts as the perfect ally to enhance root microbiota and develop healthy, strong roots, enhance fertilizer distribution and efficiency, and increase yields. It can be applied through drip, micro sprinkler and overhead irrigations systems, or directly onto the soil before or after planting, on both loam or sandy soils and on heavy soils or when there is a surface crust. 
Rovensa Next offers the industry's broadest platform of biosolutions to meet all grower´s needs, for any type of crop with the mission of driving biotransformation. Using a soil conditioner like Transformer alongside other biosolutions, growers can achieve higher crop quality and a more productive harvest.