Opened in September 2022 with a focus on sustainable agriculture, it aims to respond not only to the consistent growth of Brazil's agricultural sector in the last 10 years, but also to the sustainability needs of growers around the world. To name a few, food security, climate change, desertification and land degradation.  
For example, the development in the centre of water and nutrient-efficient biosolutions directly addresses the challenge of feeding a growing population while preserving scarce resources. By optimising crop productivity, Rovensa Next's innovative products play a critical role in ensuring a sustainable and abundant food supply for future generations. 
Innovative projects
At Rovensa Next's Global Research and Innovation Biosolutions Centre, the team is actively working on several innovative projects with a remarkable impact on local communities and beyond. The centre, the first of its kind for Rovensa Next outside of Europe, has partnered with key scientists from Brazilian universities and offices in other countries to receive microbes. 
The objective is to develop groundbreaking products derived from microbial sources and export the technology. 
A prime example of how Rovensa Next harnesses the potential of specific indigenous microorganisms is through their homemade biosolution, Biimore (also known as Vorax). Through an exclusive process, Biimore utilizes bacterial fermentation of sugarcane molasses with a specific strain of the bacteria Corynebacterium glutamicum, resulting in an ultra-efficient biostimulant.
Biimore was registered in the European Union as a 'Non-microbial plant biostimulant' under the EU Fertilising Products Regulation 2019/1009 (FPR), bearing the CE mark. This made Biimore the first Rovensa Next biostimulant, and one of the first in the market, to receive the CE mark under this new regulation. Now Biimore's EU certification has been extended to additional types of crops. In addition to becoming one of the first biostimulants to be registered under the FPR in Europe, Biimore, under the brand name of Vorax, became the first biofertilizer to be registered in Brazil.
It has been used across a variety of over 25 strategic crops and different geographical areas in more than 180 agronomic trials, which have demonstrated the high efficacy of Biimore at ultra-low doses applied at fruit swell and development stage, increasing yield and fruit weight by up to 28% and 19%, respectively, and improving other quality parameters such as size, sugar content and shelf-life.
Surprising Discoveries
During the course of research at Rovensa Next's Brazilian centre, the team made a surprising discovery related to the synergy between two different bacterial species. Originally intended for standalone products, laboratory trials showed that the two species could be formulated together into a consortium that potentialises their synergistic effect on crops, with the added advantage of requiring less volume of product applied to obtain a higher benefit in terms of nitrogen and phosphorous bionutrition. The team's keen observation and dedication to experimentation allowed them to unlock this potential and a novel product is in the last stages to obtain a license for commercialisation in Brazil by the end of 2023.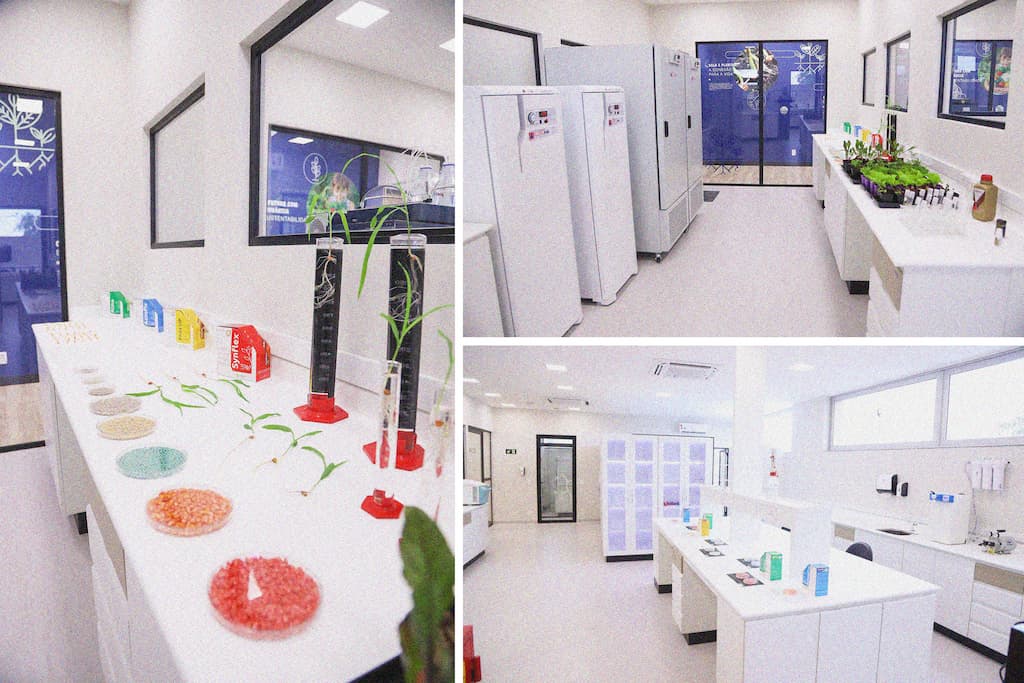 Centre's Impact by the Numbers
Rovensa Next's Global Research and Innovation Biosolutions Centre required an initial investment of over US$1 million. It boasts an impressive team highly qualified employees, comprising scientists, researchers, and specialists dedicated to driving sustainable agricultural innovation. They are working on projects to improve the efficiency of nutrient and water use, quality of crops and the quality and life of soil using microorganisms such as fungi and bacteria. Rovensa Next also has a team of more than 200 people in the fields in Brazil to work with growers and understand their needs. 
The centre is currently working on more than 20 projects, which include both new products and upgrades to existing ones. On average, a project takes three to five years to be completed.  
The centre houses two state of the art laboratories and a pilot facility spanning 380 m2, each equipped with cutting-edge technology to facilitate in-depth research and experimentation as well as conduct field trials and assess the real-world effectiveness of their biosolutions. 
Rovensa Next's Global Research and Innovation Biosolutions Centre in Brazil stands as a beacon of sustainable agricultural innovation, driving positive change for local communities and global challenges alike. Through pioneering projects, such as Vorax and its global microbial program, surprising discoveries, and a strong commitment to sustainability, the centre demonstrates the potential for biotransformation in agriculture. 
With a dedicated team, impactful projects, and impressive numbers, Rovensa Next's centre continues to make strides in addressing global sustainability challenges while promoting sustainable agriculture worldwide.