The demand for sustainable agriculture, which transcends geographical boundaries, prompted the creation of this global business unit that harnesses the strengths of ten influential companies (Agrichembio, Agrotecnología, Idai Nature, Microquimica, MIP Agro, Oro Agri, OGT, Rodel, SDP and Tradecorp) under the umbrella of Rovensa Group.  
Rovensa Next unites a global network comprising over 3,000 professionals with a sales presence in more than 90 countries. Leveraging the collective strength of its expansive team, which includes over 850 specialised field experts, Rovensa Next blends global expertise with invaluable local insights to deliver tailored support and accompany growers in their sustainability journey. 
The presentation of the business unit in these key markets unequivocally underscores its unwavering commitment to forging a sustainable future for agriculture and spearheading the industry's bio-transformation through the deployment of its innovative biosolutions portfolio. 
Let's dive into the remarkable showcases of Rovensa Next in these countries.  
China: The Year of the Green CAC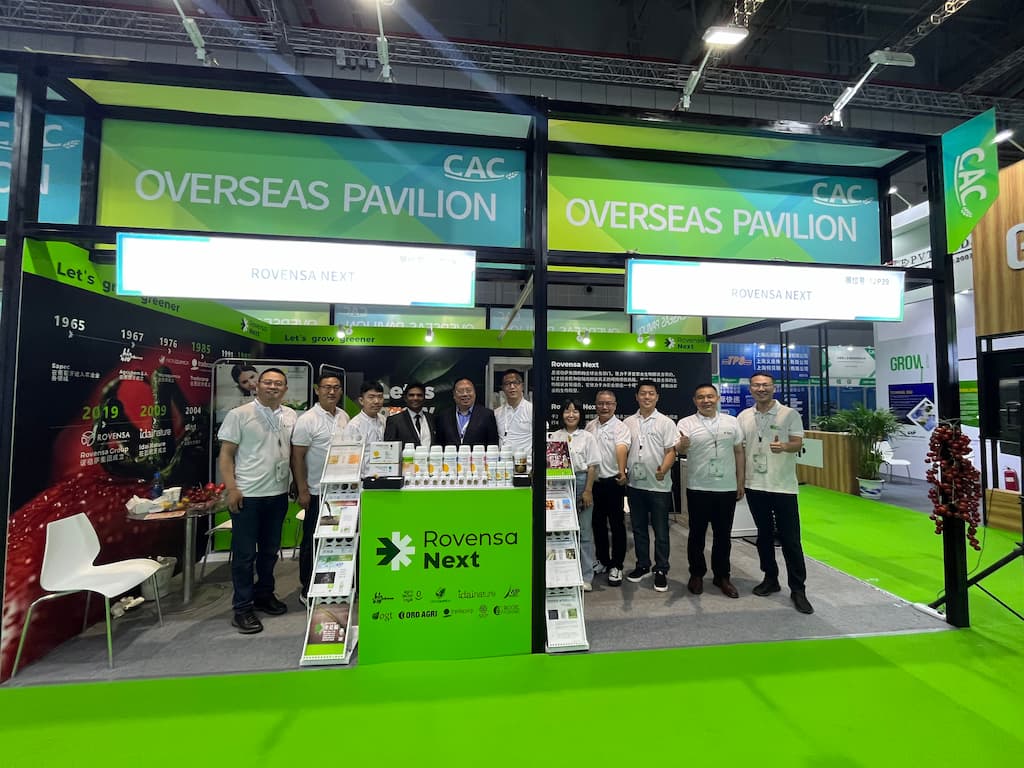 Rovensa Next China made a significant impact at the renowned 24th China International Agrochemical & Crop Protection Exhibition (CAC) held in Shanghai from 23 to 25 May 2023. With over 40,000 professionals and 1,775 enterprises in attendance, CAC served as a prime platform for Rovensa Next to present its cutting-edge products.  
The event attracted a 10% increase in trade visitors compared to 2019, underscoring the growing influence and outreach of the exhibition.  
Rovensa Next's mainland China team, alongside their Taiwan and Korea counterparts and the Asia Regulatory Manager, actively participated in the event, reinforcing the company's commitment to delivering practical and sustainable agricultural solutions. 
China holds a prominent position among Rovensa Next's strategic priorities, as evidenced by the introduction of a ground-breaking new generation of bionutrition and biocontrol products. These innovative solutions are dedicated to fostering a green transformation in agriculture, while catering to the evolving needs of the market and customers, particularly with a strong emphasis on value-added crops. 
France: loving our holistic portfolio at Les Culturales
Rovensa Next France made its official debut on 14 June at the esteemed Les Culturales field show in Congerville Thionville. Organized by ARVALIS – Institut du végétal, a renowned French Arable Crop Research Centre, the event served as a platform to empower growers seeking innovative solutions to enhance farm performance in this key market for the business unit.   
Attendees had the opportunity to interact with the Rovensa Next team and explore the comprehensive range of biosolutions offered by the company. By harnessing the collective expertise and know-how of the ten companies within the Rovensa Next business unit, French growers were introduced to an array of solutions in adjuvants, bionutrition, biostimulation, and biocontrol, enabling them to optimize their agricultural practices.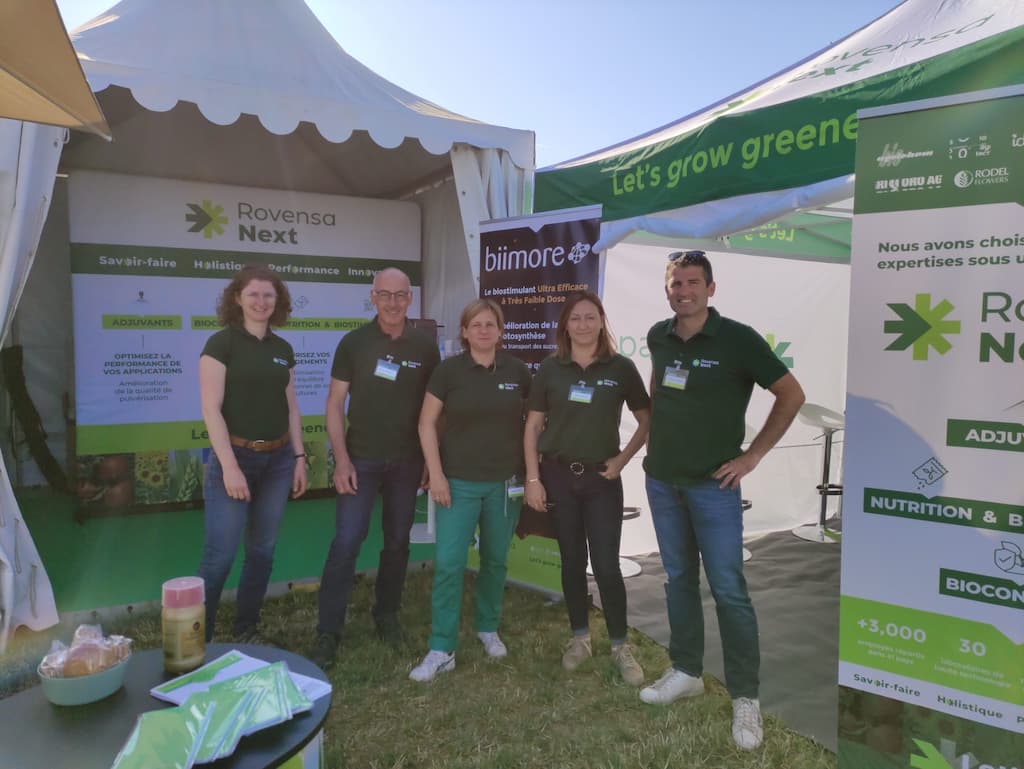 Italy: biostimulants in the field
Rovensa Next made its public debut in Italy during a field event called "Biostimolanti in campo" where companies had the opportunity to observe ongoing trials at the regional Research Center. One specific highlight was the remarkable biostimulant Biimore, derived through an exclusive and sustainable plant fermentation process, which was tested on melons. 
The project will conclude in autumn when the companies will share the trial results during an indoor meeting.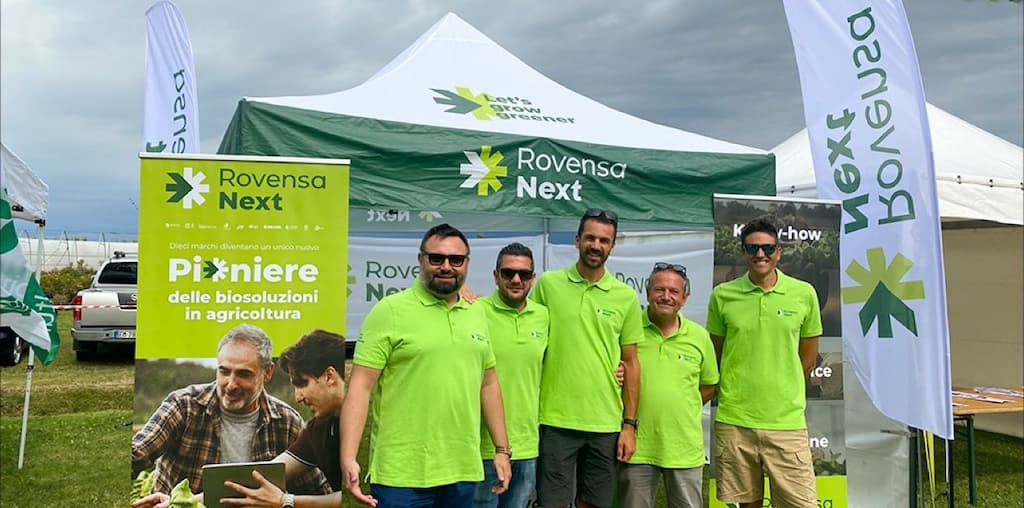 Brazil: Igniting biotransformation at Farm Show and Hortitec 
Rovensa Next also made a remarkable appearance in Brazil by selecting prominent agricultural events as launch platforms. The prestigious Bahia Farm Show, the largest agricultural technology and business fair in the north and northeast of Brazil, served as the stage for Rovensa Next's introduction to the Brazilian market.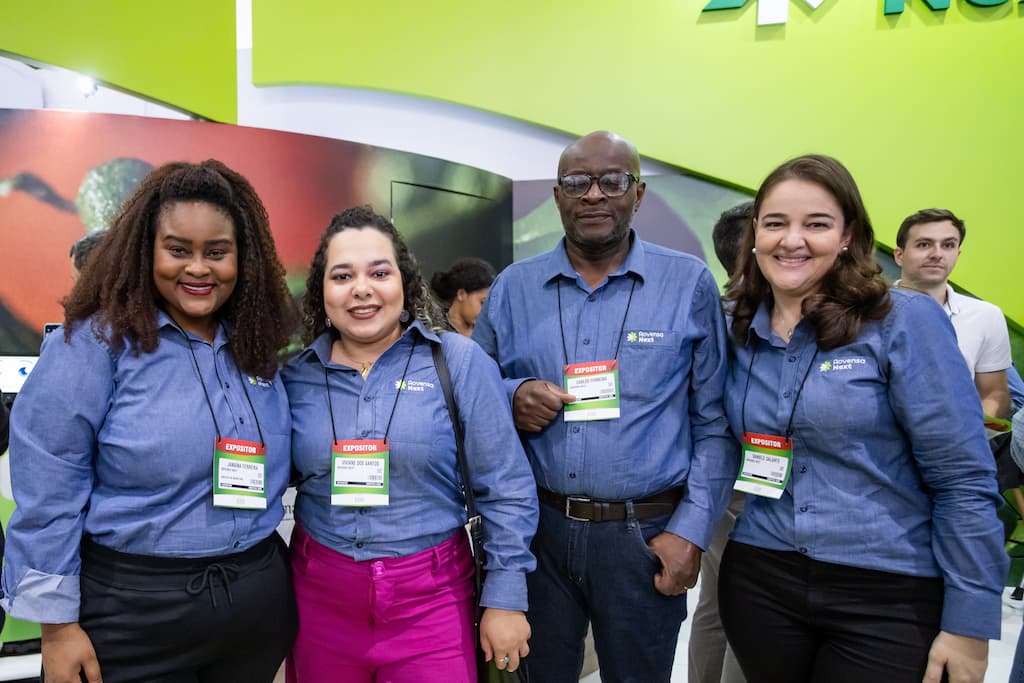 The event took place in the city of Luís Eduardo de Magalhaes, in the state of Bahia, from 6 to 10 June. It witnessed record-breaking sales, with negotiations worth over 8.2 billion Brazilian reals (1.5 billion euros, and attracted over 100,000 visitors, providing an ideal opportunity for the company to engage with the agricultural community.  
Additionally, Rovensa Next presented its robust portfolio of biosolutions at Hortitec 2023, the largest fruit and vegetable fair in Brazil, which takes place in the city of Holambra. The event brought together around 400 companies and over 29,000 visitors from 21 to 23 June, allowing them to explore ground-breaking products such as Pumma, Glutamin extra, Pre-Vam, Transformer Ultra and Principal and Vorax (known as Biimore and Quikon in other markets.  
These solutions exemplify Rovensa Next's commitment to driving sustainable agricultural practices while delivering tangible benefits to growers and the environment in Brazil, a market that is growing significantly when it comes to the use of biological inputs for agriculture. 
Rovensa Next's regional launches in China, France, Italy and Brazil, which showcased the company's dedication to providing cutting-edge and sustainable biosolutions, have sparked enthusiasm within the agricultural industry. With each launch tailored to the local context, Rovensa Next is successfully expanding its global presence and reinforcing its commitment to empowering growers worldwide.