Rovensa Next's first conference in Brazil
In February, we introduced Rovensa Next to the world at Fruit Logistica in Berlin and since then, we have been working our way to different conferences to share more about our new, holistic platform for sustainable solutions for agriculture. This was our first appearance in Brazil, and a great opportunity to showcase innovative research in local and global scale.
Brazil is a market that is growing significantly when it comes to the use of biological inputs for agriculture and conferences like this help growers, distributors and manufacturers connect to discuss challenges and solutions.
Cutting-edge research to provide solutions to real challenges
Rovensa Next is dedicated to research and innovation to shape a more sustainable future for agriculture, and we are driven by the real sustainability challenges of farmers and distributors. At BioAg World Congress, we presented three pioneering projects that are representative of who we are as a company, and what we aim to inspire in others.
PREV-AM ® as an effective and safe bioprotection solution
Marlon Assunção, Agronomic Research Manager in Brazil, presented the team's project that aimed to demonstrate safe and effective ways for farmers to manage pests and diseases. According to Assunção, the project was inspired by one of our global challenges: "producing food in sufficient quantities to feed all people but more than that…safe food, without residues and in a way to protect natural resources".
The team studied the combination of Rovensa Next's PREV-AM product with three beneficial microorganisms used in integrated pest management. The results were clear: when combined with other chemicals, these microorganisms were not able to develop, but when combined with PREV-AM, they could. Assunção points out that this finding not only serves Brazil, but all countries that are working with zero residues limits.
With the use of PREV-AM, there is no residue left on crops because it has a natural base (orange peel oil) and importantly, it has the ability to preserve natural enemies and bees, resulting in a safe, natural, and effective solution for pest management.
Using BIOTOOL to demonstrate effect of biostimulants on water efficiency
Dr Johana Pérez, Global R&D Product Design Manager, shared more about our BIOTOOL project, which was developed by Tradecorp International and Italian research centre Landlab, supported by the Eurostars programme, to respond to a growing global challenge: water.
The project aims to examine the effect of seaweed-based biostimulants on plants and improve crop yields through efficient water management. To reach these goals, research teams developed the BIOTOOL platform to study water use efficiency (WUE) under experimental conditions and for real-time evaluation of plant status in suboptimal conditions of water application.
Studies have shown that with "a reduction of around 25-40% of water combined with the use of biostimulants, plants can still achieve the same level of production." Beyond demonstrating the effectiveness of biostimulants in improving the resilience of crops in times of water stress, and how they affect the WUE of the plants, teams have been able to expand the use of BIOTOOL to nutrient use efficiency studies.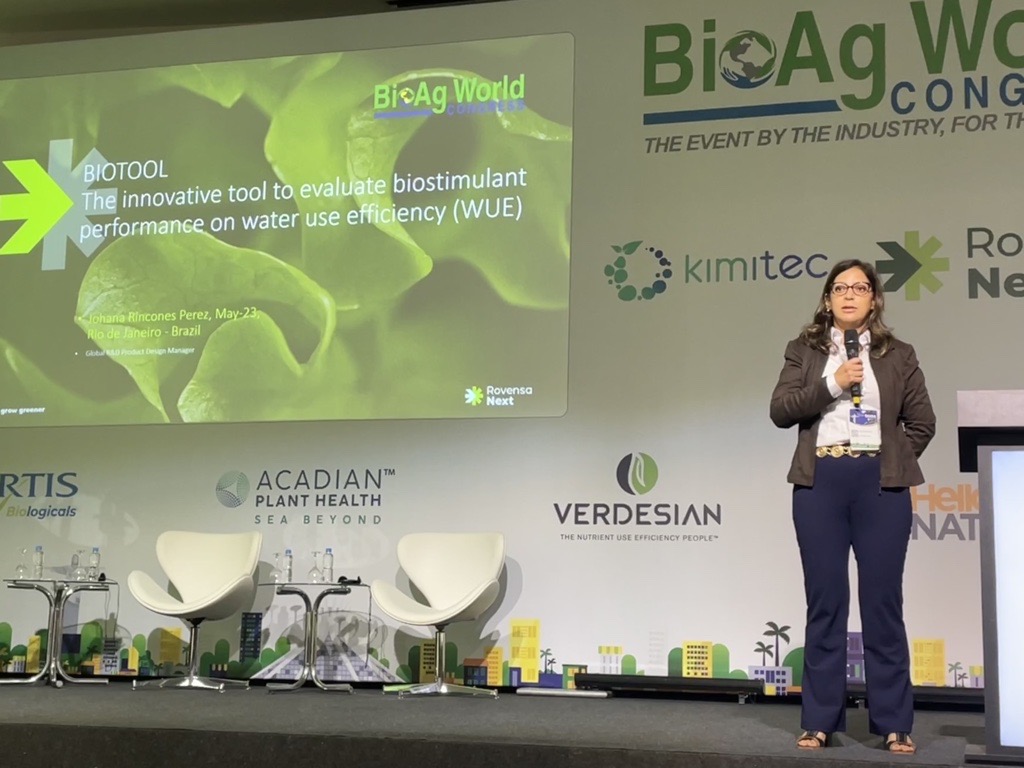 Unlocking Phosphorus in soil to improve yield & quality
Rafael Nunes, Industrial Associate Director in Brazil, presented a study our Brazil team conducted into the use of Phos'UP on soybean crops, which showed a productivity boost of approximately 9%. According to Nunes, this study was borne out of the need for a response to geopolitical issues that were affecting the price and availability of phosphate-based fertilisers in Brazil.
Phosphorus (P) is one of the macronutrients for crops and is an essential factor in yield and quality of crops. Due to its low soil mobility, it is estimated that only 20-30% of P in the soil can be readily used by plants. In Brazil in particular, there is an inordinate amount of P (22.8 million tons) contained in the soil in inaccessible chemical forms, so growers need phosphate-based fertilisers to ensure the success of their crops. Phos'UP contains an active ingredient, Pseudomonas fluorescens, which is widely known as a phosphate solubiliser that helps plants to access the insoluble forms of phosphate already contained in the soil.
Using Phos'UP in field trials with soybean crops, the team found that when combined with strains of diazotrophic bacteria that are widely used in Brazilian soybean crops, there was a significant synergistic effect that increased nutrient use efficiency in the plants and demonstrated that this is viable sustainable and effective alternative to imported fertilisers in Brazil.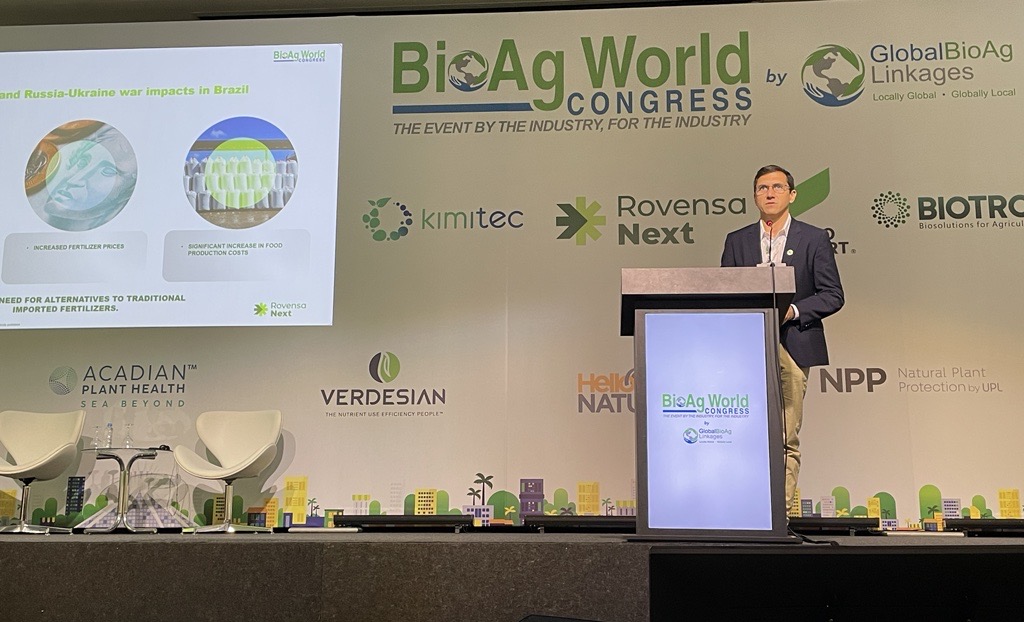 Joining industry leaders to discuss the challenges and opportunities in BioAg
Rovensa Next Strategic Advisor, Carlos Ledó, also joined a CEO roundtable to discuss leadership challenges in BioAg companies and advice for others in the industry. Ledó had the opportunity to share his experience and career trajectory with other leaders and spotlighted the formation of Rovensa Next and integration of 10 companies together into one unified brand, as a one of his biggest and most exciting career challenges.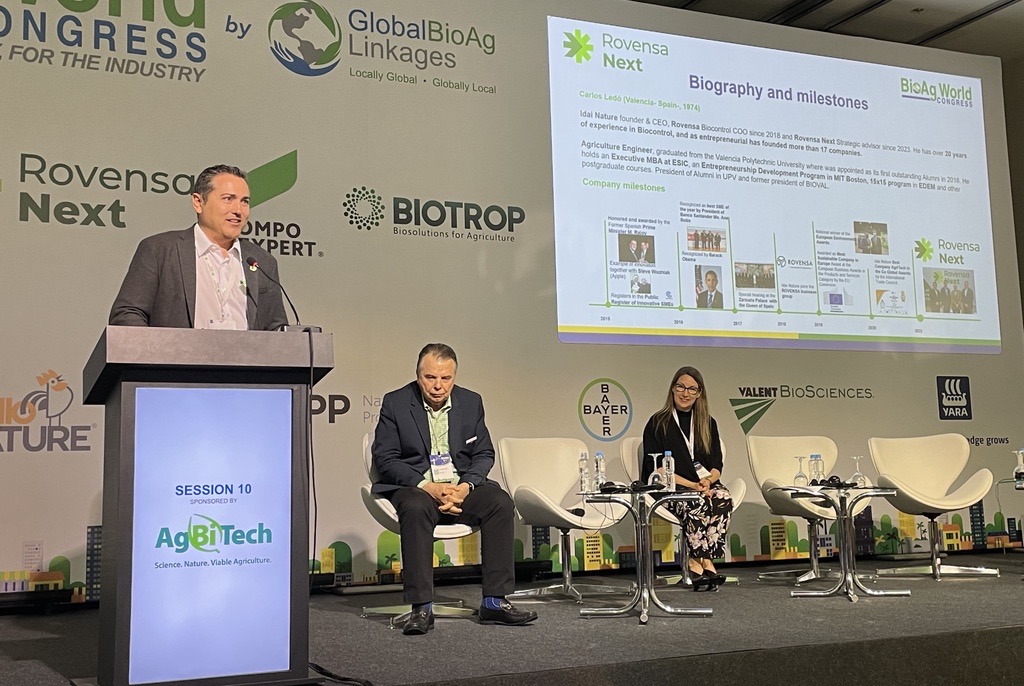 Awarding industry innovation
To close out the congress, Rovensa Next had the opportunity to present the BioAg Innovator Award, which was voted on by the conference attendees following the presentations given throughout the congress.